According to Gartner, "The network intrusion prevention system market has undergone dynamic
evolution, increasingly being absorbed by next-generation firewall placements. Nextgeneration
IPSs are available for the best protection, but the IPS market is being pressured by the uptake of
advanced threat defense solutions.
This Magic Quadrant focuses on the market for stand-alone IDPS (IDP / IPS) appliances; however, IDPS capabilities are also delivered as functionality in other network security products. Network IDPSs are provided within a next-generation firewall (NGFW), which is the evolution of enterprise-class network firewalls, and include application awareness and policy control, as well as the integration of network IDPSs (IDP / IPS)
"
2018
Gartner has named McAfee (StoneSoft), Cisco (SourceFire), Trend Micro as a Magic Quadrant Leader in 2018 for Intrusion Detection and Prevention Systems (IDPS). (In 2013, McAfee acquired Stonesoft, and Cisco acquired Sourcefire. In 2015, Trend Micro acquired HP TippingPoint at $300M.)
2017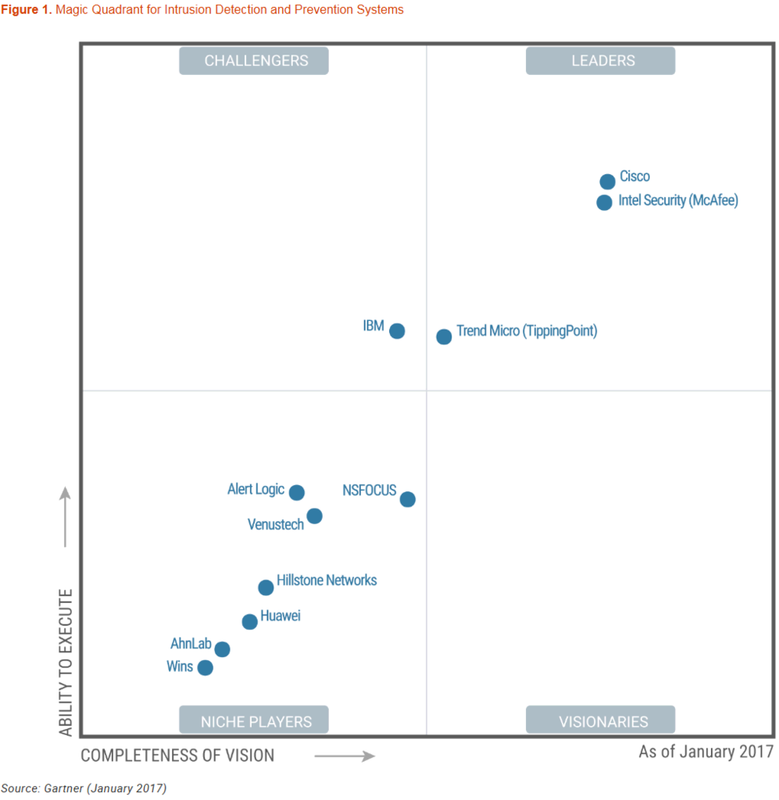 Gartner's 2017 Magic Quadrant for Intrusion Detection and Prevention Systems (IDPS)
Cisco and Intel are still in leader quadrant, at the same time Trend Micro comes in as leader now. IBM becomes Challengers.
2015
For the ninth consecutive year, Intel Security's industry leading Network Security Platform (NSP) has been recognized as a leader in the Gartner Magic Quadrant for IPS (Intrusion Prevention System).
IBM Security is back in the Leaders quadrant in the latest Gartner Magic Quadrant for Intrusion Prevention Systems (IPS), published on Nov. 16, 2015.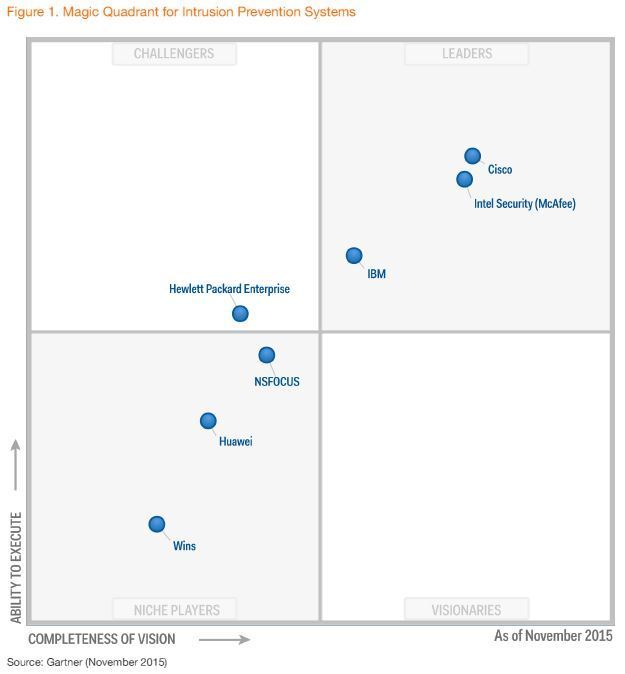 2013
Cisco acquired Sourcefire Inc. for about $2.7 billion on July 2013.
McAfee, the Intel-owned security specialist, bought Stonesoft,a Finland-based specialist in firewall protection products, for $389 million in cash on May 2013.
2012


2010
2009
2008