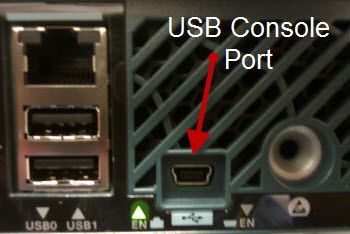 Cisco Device Mini USB Port
Cisco has added mini usb port into their products for many years.
The key to use this port is to get a right cable. At most situations we are using regular RJ45 console port with a USB to Serial Adapter connecting to your computers. Occasionally, you may need to have another console access for your multiple person's troubleshooting console access. Some devices may still have AUX port. For 2960x switches, AUX port is gone.
RJ-45 Console Cable with USB Adapter
If you would like to use mini usb port, you will have to find a USB to mini usb cable such as below.
Cisco Mini USB Console Cable
Cisco Router's Back Ports
The instruction how to use this mini usb console port is showing in the following steps:
Cisco Mini USB Console Cable connecting Cisco Router to Laptop
1. Download Cisco USB console driver
It is free to download from Cisco downloading site as soon as you have registered a free Cisco account.
2. Install Cisco USB Console drivers on your computer:
You may need to reboot your computer.
3. Confirm the COM port number:
In this case, it is using COM6 port.
4. Set up Serial access using PuTTy
5. Console Outputs once connected successfully.
Notes:
USB console is taking precedence before Rj45 console access for input.
Update Driver manually if it is not working properly.